Mission
We have four dimensions to our mission, to:
develop and enrich worship;
deepen and nurture people, of all ages, in the faith;
discover opportunities that expand our existing fellowship and reach out to others in mission, evangelism and service;
renew, and keep updated, our facilities to best serve the life of the church and the wider community in years to come.
The Banner Group
We are a small group who only meet when there is a Banner actually in the making. Our banners are designed, sewn, embroidered and put together using mainly recycled materials. Themes are determined by the Celebrations and Outreach of our Christian Faith.
Our Banners are displayed in rotation in the Sanctuary and ancillary buildings, to support worship and speak to everyone using the premises.
For more information contact Elizabeth Wearing.
Christian Aid
Christian Aid is an international development charity who work with people, of all faiths and none, in around 50 countries to eradicate poverty.
Here at Woodlands we support the main fundraising Christian Aid week every year in May – donation envelopes are distributed on Christian Aid Sunday, along with prayer cards, and we have a band of volunteers who put their faith in action and help distribute and collect envelopes house-to-house.
During Lent, we distribute a Christian Aid count your blessings calendar, giving thanks and celebrating the good things in life with thought-provoking reflections. The Christian Aid website is full of useful information and resources.
Our Christian aid coordinator, Caroline Chang, may be contacted in church and by email: caroline.chang@ntlworld.com.
Community Garden
We are creating a community garden for everyone to enjoy, young and old, sighted and visually impaired, able and those with mobility difficulties.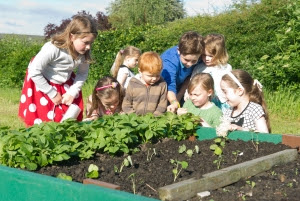 Our community garden uses the lovely green space at the rear of the church and started in 2014. We now have eight raised beds for fruit and vegetables, 14 fruit trees and work on a sensory garden is almost finished. This has been funded with grants from the RHS, Harrogate Borough Council, the Sir George Martin Trust, Bettys and Taylors, The Liz and Terry Bramall Foundation, Leeds Extension project, an Engage Mutual Foundation Community Award, and money raised through donations, Foresight and our community events.
We are also taking part in Kew Gardens' Grow Wild project which encourages people to plant native wildflowers in community spaces. Local sixth formers have worked with scientists to work out whether planting plug plants, sowing seed or spreading green hay, has the greatest effect on increasing biodiversity of plants and insects in the garden.
If you would like to join in, visit anytime or come to our gardening afternoon on the last Sunday of every month from 2-4pm where we have refreshments, gardening jobs and children's activities and Friday mornings from 9-10am.
For more information contact Catherine Baxter by email: celbaxter@hotmail.com (or check out our facebook group).
Creative Friends
In our Creative Friends group we engage in various crafts and discussions, and sometimes we have a musical afternoon listening to our favourite music. If someone has a suggestion for something new we are always willing to try our hand.
We meet together on the last Friday of each month.
Our annual Open Afternoon is most enjoyable, every August we hold a Garden party now held in the church garden where we have items for sale that have been made by the group. All proceeds go to Church funds.
For more information phone Kath Williams on 01423 509326.
Friday Toast
TOAST is our drop in for parents and carers on the school run, meeting on Friday mornings 8.45am to 10am during term time.
Parents, grandparents and other carers are welcome to join us for hot drinks, toast and plenty of chat! We have play, toys, juice and toast for your preschooler children.
We run seasonal crafts for our younger visitors, and in the summer we take ourselves outside on the grass for water play and to enjoy the sunshine. We link up with Willow Tree Primary and Nursery School's PTA to run some joint TOAST sessions during the school year.
TOAST is also an opportunity for parents to talk to the church family at Woodlands. We have a couple of members of staff at each session which allows someone to be available to listen as the need arises. Our staff have undergone safeguarding training and are DBS approved. The Church is also open for private meditation and prayer during each TOAST session.
For more information contact Nicola Pollard on 01423 886228 or just pop in any Friday morning in term time.
Ladies Circle
Woodlands was opened in 1964 and we celebrated 50 years of our church in 2014.
Our Ladies Circle was founded in 1967, 3 years after our church was opened. Ever since the start the program has been of interest to all ladies whether they be church members or not. So much so that we still have a few of those original members.
We run on alternate Wednesdays, September to May, at 7-30pm for about an hour
We have news speakers introducing interesting subjects and favourite speakers who come back again. We are usually 2 dozen or so ladies at each meeting and new members are always welcome. At each meeting we have a stall selling toiletries, stationery, and home made jams.
Do come along, you will be made most welcome.
Messy Church
Church with a difference based on creative activities, games, refreshments and celebration, all based on a biblical theme. Lots of fun and chatter! 
Messy Church meets monthly on a Wednesday afternoon straight after school in the Large Hall (about 9 times a year as some months are missed due to Easter, Summer holidays, etc.). The time is approximately 3.15pm-4.30pm.
Our aim is to help children encounter Jesus, and want to know more about him, in a relaxed and informal environment. Children 4-11 years and accompanying parents, family or carers are warmly welcomed.
For more information phone Sue Ross on 01423 202532.
Monday Evening Group
We are a Bible Study Group and meet once a month, usually the first Monday in the month, at 7.30pm.
We have read and enjoyed many different Biblical topics, giving us a greater understanding of the old and new testaments. Sharing our learning with good friends makes our evening together very special. You are very welcome to share an evening with us!
For more information contact Delia Wells on 01423 886186.
Sunday School
Families and young people play a vital role within our church community at Woodlands and at Sunday School we aim to explore ways of helping our children to develop and grow in their faith and to learn how their beliefs relate to the challenges and opportunities of the modern world.
We welcome all children, from 0 – 16, to join us at our 10.30am service on Sunday mornings. Sunday School is organized into Creche (0-3 years), Infants (4-7 years), Juniors (8-11 years), and Seniors (up to age 16).
Sunday School runs weekly from the beginning of September until the end of the school year in July.  The first Sunday of each month is our Celebration Sunday where we all worship in church together.  On all other Sundays, we worship together in church for the first 20 minutes, then we go into our Sunday School rooms to learn more about our faith through a bible lesson and a range of interactive, age-appropriate activities, including toys & games, arts, crafts, singing, drama and lots of discussion.  We aim to inspire the children to explore and develop their faith in a safe, fun and stimulating environment.
Each year we are also involved in a number of additional events such as our annual Nativity play, carol singing, our Sunday School summer outing, Circuit Sunday School, Pulse (for ages 11+) and various fundraising events. For further information see the Sunday School page or contact Fiona Tilson.   or jnpbeckingham@virginmedia.com